Dog Food Home Delivery Service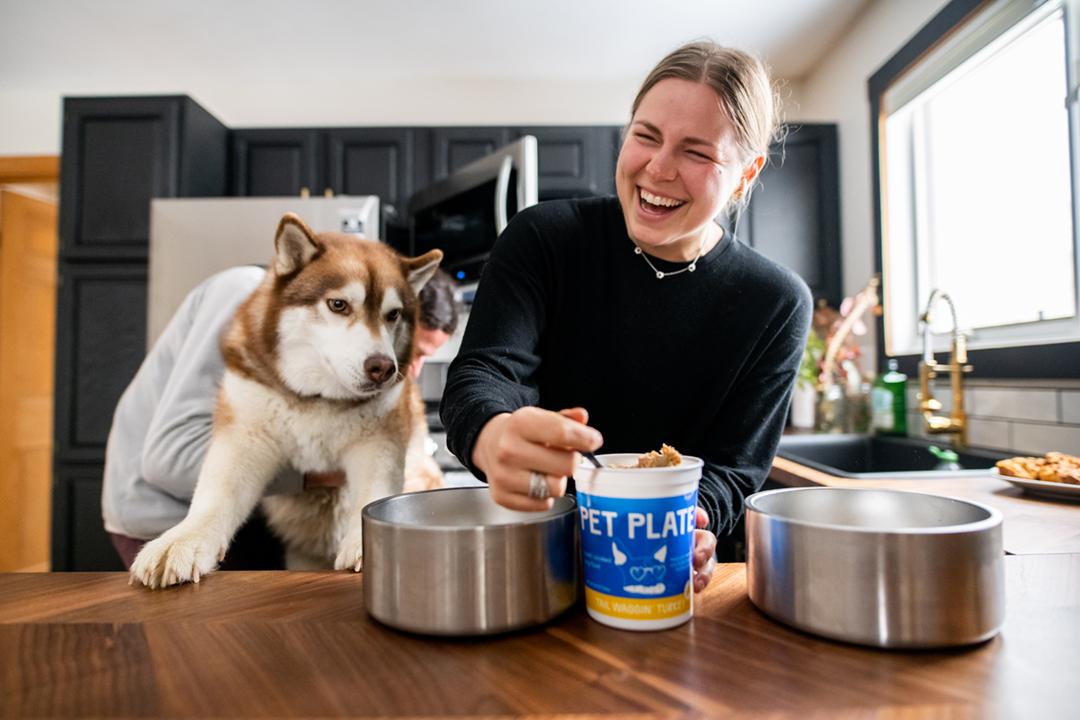 Get 30% off your first box of Pet Plate, fresh made dog food delivered straight to your door!
A dog food delivery service that makes it easy
Just like us humans, all dogs have their own individual nutritional needs and palate preferences that need to be taken into consideration in order for your dog to thrive in their health and well being.
What are some of the things you would hope from your dog meals?
More excitement at their mealtime
A healthier weight
Better stools
Shinier coats
Allergy relief
Better energy
There is dog food and then there is food made for dogs, the difference?
Simply put these meals are human grade that are of superb quality, whole food ingredients without fillers or other lower quality ingredients.
Fresh meals that are prepared in USDA approved kitchens the same way your food would be prepared.
Each dog meal is hot-filled to ensure safety and flash-frozen to lock in freshness.
How the dog food home delivery system works
From your dog's unique profile details and a proprietary algorithm helps us determine a custom meal plan that offers optimal calorie intake for a healthy weight for your dog.
Our service offers a fully customized, subscription-based dog food delivery service that gives your dog flavorful, nutrient-filled meals that are designed specifically for them.
The process step by step
Step One - Create your dog's unique profile and custom meal plan.
Step Two - Your meals are made with human-grade ingredients in a USDA kitchen. Every batch is hot-filled for safety and flash-frozen to lock in freshness.

Step Three - Begin receiving your dog's ready to eat meals.
Is your dog getting in all the essential nutrients they need for optimal health?
Feeding your dog fresh or home-cooked meals may lead to your dog missing out on the necessary nutritional proportions they need on a daily basis.
Each serving of your Pet Plate meal is made with U.S.A. sourced quality ingredients and is blended together for the ideal mix of proteins, carbohydrates, fats and vitamins to form a complete balanced meal for your dog.
All of the packaging is BPA free and recyclable.
100% money back guarantee!
The Proteins
Necessary for your dog's strength and activity.
Every batch of CK food contains a hearty protein source–needed to strengthen, repair muscles and body tissue.
The carbohydrates
Necessary for your dog's energy and brain function.
Carbohydrates provide a great source of daily energy needed to maintain an active lifestyle. They provide beneficial fiber & heighten brain function.
The fats
Necessary for your dog's boost in energy and mood.
Fats are easily digested and provide as much energy as both proteins and carbohydrates combined. The essential fats can improve your dog's mood, protect them from infections and maintain healthy skin and a shiny coat.
The vitamins
Each vitamin has its own unique benefits. Vitamins work together to achieve one common goal, giving your dog a healthier, happier life.
Benefits of Pet Plate for your dog
Crafted specially for your dog, delivered to your door.
Each meal is created based on your dog's specific dietary needs and preferences.
MADE IN THE U.S.A.
We promise to use all-natural, U.S.A. sourced ingredients in our dog food to ensure your dog receives the freshest meal every time.
ALWAYS FRESH
We believe in producing small batches using only high-quality ingredients, all sourced from the U.S.A.
Dog food home delivery service checklist.
There are a lot of dog food home delivery companies in the marketplace and since the popularity of online buying the category is sure to grow so there should be some buyer beware questions.
These are some of the items that you may want to check off your list before you purchase:
Does the service offer veterinarian-approved meals that are designed around your dog's needs and your pets medical history?
Do they offer a service that is not a long term commitment so if you want to cancel you can?
Do they provide a support staff that is available, knowledgeable and willing to help you with any concerns you may have?
Are the ingredients they use in their dog food sourced in America?
Are those same ingredients fresh and have not been sitting on a shelf in some warehouse for months or more?
Are all the meals they provide a balanced meal with the right portions of proteins, carbohydrates, fats, vitamins and minerals?
Do they offer a complete list of all the ingredients that they put in your dog food?
Is all of the packaging BPA free and recyclable?
Is there a 100% money back guarantee?
What are some benefits of a human grade fresh food for your dog?
Fresh food is easier for your dog to digest
If you watch enough television sooner or later you are going to view a commercial that is going to claim they have the very best kibble for your dog.
Chances are they will feature a dog running and jumping like a wolf in the wild and give you the impression the dog could be yours if they eat their packaged kibble.
Truth is that is not your dog and the kibble they are promoting may contain artificial ingredients that your dog may have a difficult time digesting.
They will often brag about how chicken or beef is the "first ingredient" so you won't bother reading on and see that the rest of the ingredients are not looking out for your dog's best interest.
With fresh human grade dog food, you are feeding your dog fresh and healthy food that is much easier for them to digest.
What you see is what you get
Getting back to the dog food commercial, what they don't brag about is where the ingredients are sourced or even for what!
Most so-called brand name dog food source low grade sources of protein because the bottom line is more important than the health of your dog.
With a fresh dog food delivery plan, you know up front what and how much food your dog is going to receive because in many cases you will have a say in their diet plan.
Your dog may live a longer healthy life
Ever hear of the expression "what passes the lips goes on the hips?"
There are countless diets and workout programs designed to help people overcome their bad habits when it comes to their diet.
People spends billions of dollars each year to help themselves life a longer better life when all it takes is better choices at the dinner table.
The same is true for your dog and in many cases some dog owners care more about their dog than they care about themselves.
At least there is an easy solution for your dog and that is fresh dog food delivered to your door.